June Inshore Fishing Report
Inshore Fishing Report for Hilton Head, SC:
As we get deeper into the spring fishing season we will see an abundance of life all around us while out on the water. You might notice that the water clarity has gone from gin clear to "dirty" green-brown…this, in fact is not dirt or mud but rather microorganisms such as algae and plankton that are growing in our warm ocean water. These microbes form the base of the food chain for all other species by providing food for small baitfish and shrimp which in turn provides food for larger fish, birds and even us. I generally look at the warmer months as a time for life to flourish here in the Lowcountry and that in turn can equate to some red hot fishing!
Inshore Fishing:
On the inshore waters there is a lot of action right now. The redfish, speckled sea trout and flounder will be on the prowl and feeding heavily around most any "fishy looking area". When I say fishy, I am talking about spots that have a combination of four things: spartina grass, oyster beds, feeder creeks and moving water. The spartina grass and oyster beds provide cover and/or structure for the fish conceal themselves while the water flowing in and out of the creeks provide a constant flow of food – to – and – from the marsh. As the water moves in and out of the marsh predator fish such as trout, redfish and flounder will hold up to feed on the abundance of baitfish that are moving with the current…its like a baitfish buffet. We will also be catching a number of other species around these same areas to include: bluefish, jack crevalle lady fish and small sharks. Speaking of sharks, June is one of the best months to catch bonnet head sharks in shallow water. These sharks average between 10-15 pounds and are a blast to catch on light spinning rods and even fly fishing tackle. My favorite tactic to catch bonnet head sharks is to quietly pole the boat near them while they are pushing around in shallow water and sight cast using shrimp, crabs and fly patterns.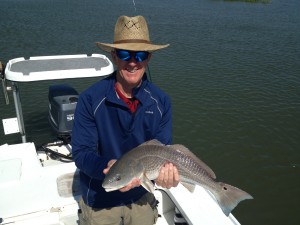 This entry was posted on Thursday, June 6th, 2013 at 6:14 pm and is filed under Recent Fishing Reports. You can follow any responses to this entry through the RSS 2.0 feed. You can leave a response, or trackback from your own site.