Nature Tours and Photography in Hilton Head, South Carolina
The natural beauty of the Hilton Head area is unmatched and I am always amazed as to what I see while we are out fishing. As a full time fishing guide I can tell you that for most people the fishing is the main focus of any trip, but you can never loose focus on your natural surroundings. I don't think that I have ever had a trip where I did not stop to point out something that caught my eye!
Just the landscapes and everyday things that you see on the water are really cool. Whether it be exposed oyster mounds or a picture perfect sunrise. The waters around Hilton Head are part of a tidal estuary. If you look at a local map you will see that this area is made up of thousands small of uninhabited islands, rivers and tidal creeks. From a closer look you will see shorelines lined with palm, pine and moss covered oak trees. As you push off of the shoreline there is a labereth of small creeks that cut through the spartana grasses and out to the oyster bars and mud flats. This estuary is home to a number of resident and migratory fish, birds and animals.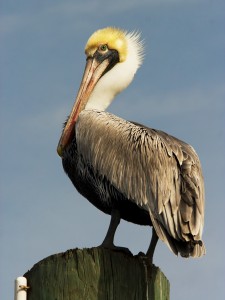 We have quite a number of resident birds and animals that live in the estuary. For example; bottle nosed dolphins, turtles, otters, deer and racoons. Some of the resident birds that you may see would include brown pelicans, blue heron, white egrets, oyster catchers, ospray and various shore birds. We also have a lot of migratory birds hold over in Hilton Head throughout the year. Some of these birds may include; bald eagles, wood storks, loons, spoon bills, white pelicans and various sea ducks. Quite honestly I am no naturalist but as someone who spends the bulk of their time outdoors I can tell you that there is always something to see. Sometimes it is obvious and sometimes you have to look but Hilton Head is full of life! That's what makes every trip a true adventure! Captan Charlie
I offer a number of different private boat tours that may range from photo safaris to sunset cruises to dolphin watching tours. For more information about pricing please give me a call or shoot me an e-mail.

Click here to find out How to Book a Guided Nature Tour!