Cobia Fishing Hilton Head, SC
Cobia Fishing!  These fish should start to show up in the spring and stay around through early summer and for what ever reason they do like to pop up to the surface and swim around like they own the place…well I guess they do. Once again this gives us a great opportunity to sight fish. As with most sight fishing, looking for cobia involves hours of boredom followed by moments of adrenaline rushing panic! The biggest difference in sight fishing for cobia from other fish is that we need use heavier tackle. For spinning rods I use Ugly Stick Custom 12-20 pound rods with Penn 6500 reels and for fly fishing I use 10-12 weight St. Croix Legend Elite rods with Sage 6000 reels. The heavier rods are needed to present larger baits but also to handle a powerful cobia and the biggest thing about the reels is to ensure that the drags are silky smooth. Until next time Catch em Up! Captain Charlie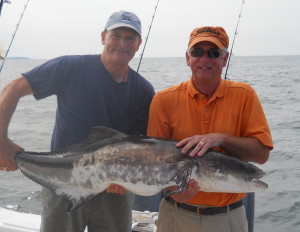 For more information on this topic visit this link:
https://www.hiltonheadfishingadventures.com/cobia-fishing-charters-hilton-head-sc
This entry was posted on Friday, May 3rd, 2013 at 2:54 pm and is filed under Recent Fishing Reports. You can follow any responses to this entry through the RSS 2.0 feed. You can leave a response, or trackback from your own site.