Family Fun Fishing and Kids Fishing Trips in Hilton Head, SC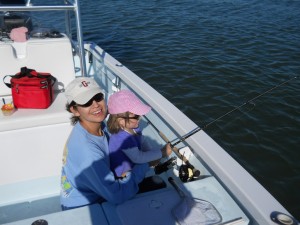 Lets take a kid fishing! There is nothing like seeing a little one's face light up when they hook into a fish. I know this because I have literally taken thousands of kids fishing over the years to include my little angle… who by the way is quite the angler. She is only 12 years old but she has already caught redfish, whiting, sea bass and small sharks and to her they are all "big fish". One thing that I know about kids is that they really don't care what they are catching as long as there is action! I try to customize all of my trips towards my anglers and that is especially true with the kids. Not only is a family fishing trip fun from the fishing aspect but there is so much to see and learn about while out on the water to include birds, marine wildlife and all of the odd stuff that we bring in while fishing. Every trip is an adventure!
3 Hour Family Fishing Special – $400
If you are looking to bring your family out on the boat I would love to have them! The best thing that you can do is to let me know how old they are and what their fishing experience is so that we can come up with a game plan so that they have fun. In my opinion the younger kids (12 and under) just want to catch something and they don't want to wait very long for the bite. We can do that, but the fish are generally smaller which works out well so they can fight them on their own. As the kids get older we can get into more "quality" fish, but they need to have the patience between bites. And then there is always shark fishing. During the summer months the waters around Hilton Head are loaded with various sharks. What youngster doesn't want to go home with stories about all of the sharks that they battled while on their summer vacation! No need to stay out of the water; though there are many sharks that frequent the beaches they are generally small and have no interest in us. We have a number of different shark fishing options from inshore bonnet heads to fishing in the Port Royal Sound for large black tips among others. Please note that all kids under 16 need to be accompanied by an adult.
2 Hour Family Fishing Special – $300
Throughout the Summer I run a special promotion for shorter 2 and 3 hour family fishing trips taking up to 4 passengers (2 adults and younger 2 kids) for $300 and $400. This trip is 100% geared towards the kids and ensuring that they have the opportunity to see the backwaters of South Carolina and also to catch some fish. On this trip we will not only be fishing but also have the option of splitting the trip up into different activities to keep everyone well occupied! For example; we might spend 1/3 of the day fishing, then 1/3 sight seeing and dolphin watching around the island and finally 1/3 of the trip netting the backwaters and identifying your catch and/or visiting the backwater beaches or sandbars depending on the tides. On the other hand; we can just as well fish for the whole trip – its up to you!! As for the fishing I am generally looking for the best action to bend the rods as opposed to catching trophy fish. There is a lot of fun packed into this short trip and if this sounds like something exciting to you please just let me know upon booking that you are interested in the either the 2 or 3 hour Family Special!
If you are planning a family fishing adventure you can CLICK HERE to Contact Me by shooting me an e-mail or giving me a call and we will come up with a fishing charter to meet your needs. Captain Charlie