Hilton Head Redfish Charters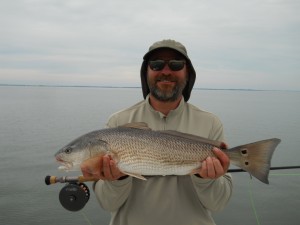 If I could only fish for one thing here in Hilton Head, South Carolina it would be redfish. Also known as spot tails, red drum, drum fish, channel bass, and bull reds these fish are one of the greatest sport fish from Texas to Virginia and South Carolina has some of the best action anywhere. One of the things that I like most about these creatures is the fact that there are so many different ways to fish for them and they are readily available just about year round. Though we catch redfish year round we do vary our tactics through out the year depending on the conditions and where the fish are and how they are feeding. We generally target reds with light spinning tackle using lures or live bait and they are also one of our top targets for fly fishing where we use small crab, shrimp and bait fish patterns.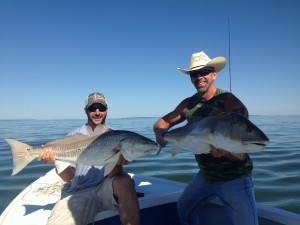 Redfish were just about wiped out of existence in the 80's due to the blackened redfish craze created by chef Paul Prudhomme. As with all fish if you put a price on their heads it won't be long until they are gone. After years of overfishing the government put strict regulations on the harvest and sale of redfish and the fishery has rebounded exceptionally well. These fish have been granted gamefish status and are protected on both the state and federal level. Moreover, South Carolina recently reduced the bag limit from 3 to 2 fish per person per day and we are seeing very healthy stocks of both estuary and adult redfish.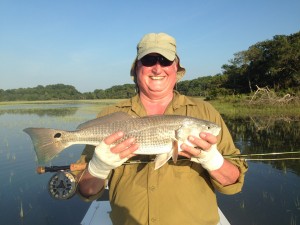 Redfish are very long lived fish… living to be over 60 years old! In all of that time they continuously grow, I guess thats why the South Carolina state record redfish weighed 75.0 pounds. Now that's a big red! Basically here is how it works. The inshore estuaries (ie: marsh grasses, tidal creeks, oyster bars and mud flats) are where redfish start their lives. Many scientists believe that for the first 4 years these fish only move within a few miles. What does the inshore estuary provide? Primarily food and shelter. Here the redfish grow up eating small bait fish shrimp and crabs while at the same time trying to avoid being prayed on themselves within the protection of the marsh. After about 4 years of age redfish, being about 7-10 pounds, will stage up and move offshore to breed with other adult redfish. For the most part, mature redfish will spend the remainder of their lives in offshore waters. One exception here in Hilton Head is during late summer and fall when these fish (now known as bull reds) come back to spawn we will catch them in the surf and in deeper water near the sound.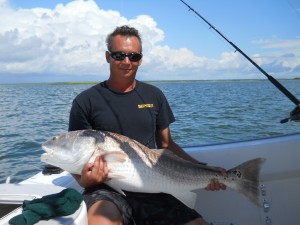 I always look forward to catching the big bull reds (many of which weigh between 25 and 40 pounds) but, for the majority of the year I fish the inshore shallows for the "little guys". We have many different ways to go after redfish which vary from using dead and live baits to artificial lures to fly fishing the open flats. My personal favorite is sight fishing with light tackle using artificial lures and flies out of the flats boat. During the winter we primarily sight fish the clear shallow flats and during the summer we look for tailing redfish on the short grass flats. In either case it combines fishing and hunting or as I like to call it hunting with a fishing rod!