Captain Charlie Beadon: At Home on the Water
From the time that I was a young boy I have had a rod in my hand and a passion for the outdoors. Growing up in Daytona Beach, Florida we spent many days fishing and crabbing on the inshore waters of the ICW, surf fishing near the local inlets and piers and when I wasn't fishing I was usually exploring the woods and lakes near our home. Throughout high school I spent quite a bit of time bass fishing until I saved the money to purchase a small boat to get out into the area lakes. This really got me moving into a new direction because with the mobility of a boat I was able to work new waters and more importantly new tactics. After high school I joined the U.S. Marine Corps and went through my training at Paris Island before being stationed in Tampa, Florida with the 4th AAV. While in Tampa I also attended the University of South Florida, but never lost my passion for the open water. I quickly found that Tampa had some excellent saltwater fishing, especially around the inshore waters for snook and redfish. I started to experiment with some of the same lure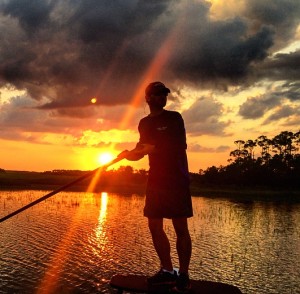 tactics that I was using for bass and became instantly addicted! As soon as I was discharged from the Marines I moved to the Florida Keys where I received a true fishing education. In the Keys and throughout the Bahama Islands I had the opportunity to work on a number of sport fishing boats with some of the most knowledgeable skippers in the world. We mostly targeted offshore pelagics such as sailfish, marlin, tuna, dolphin and wahoo, but did quite a bit of bottom fishing as well for species such as grouper and snapper. The keys also afforded me the the opportunity to fish numerous fishing tournaments and also work on several commercial fishing boats. After 7 years in the Keys I moved up to the Lowcountry of South Carolina to run a charter fishing operation for a private club here in the Hilton Head area. Though I did enjoy the private job I eventually became a bit bored and decided to go out on my own and I started my own company – Hilton Head Fishing Adventures. Over the past 12 years I have grown attached to this area not only for the fishing, but also its natural beauty and culture. In my opinion, Hilton Head has some of the finest inshore fishing that I have ever seen and when you add that to the beauty of the local scenery and wildlife you have a true jewel.
18 foot Fly Boatworks: The Fish Hog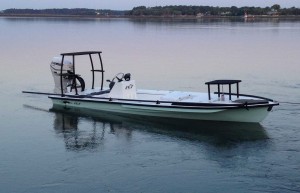 If you are looking for a relaxing fishing experience you may want to get out for some shallow water sight fishing action. I generally sight fish the shallow flats out of my 18 foot technical poling skiff. This is a brand new boat and fully rigged to get you into exceptionally shallow water. I specifically chose this boat to reach the furthest backwaters around Hilton Head Island to get you into places where where most other boats can not get to! Generally, we use the flats boat to target the estuary redfish, trout and flounder. The main advantage of the smaller boat is that by utilizing the super shallow draft, elevated platforms and push pole we are able move quietly through the estuary with out spooking fish as we approach them. This gives you a great chance to see the fish before you cast to them with light spinning or fly fishing tackle.
20 foot Spanish Wells: The Fish Hog II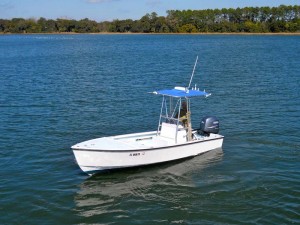 This is one of the most unique boats that I have ever owned. For a 20 foot bay boat her deep forward design cuts through the stiffest chop without pounding which gives you a comfortable and dry ride. I have personally custom rigged this boat for one purpose…to catch fish! There is ample live well space designed to keep plenty of fresh caught bait. There is also plenty of storage and seating along with 18 rod holders to ensure that we have everything that we need for the days fishing. For power we are running a 150HP 4 stroke Yamaha outboard which is quite powerful and quiet. In addition, the custom t-top provides some shade and has a stand through platform for an eagles eye view while sight fishing. This boat is great for fishing both the inshore and nearshore waters around Hilton Head. With this boat I can carry up to 4 passengers on any given trip and we can fish comfortably within the backwater estuary out to the deeper nearshore waters.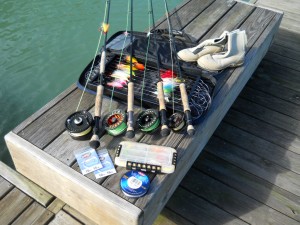 Additionally, I only use the highest quality and well maintained rods, reels and tackle to give you the best chance at that fish of a lifetime. As a part of my inshore arsenal I use St. Croix tide master and triumph spinning rods matched with Penn Battle and SS reels. For fly fishing I use St. Croix Legend Elite rods matched with Sage, Penn and Billy Pate fly reels. For larger gamefish I use Ugly Stick Custom rods matched with Penn SS spinning and Shimano conventional reels. I specialize in light tackle fishing so you can guarantee that I keep all of my gear in top condition!
Click Here to Book a Guided Fishing Trip!