Fly Fishing Charters and Guided Saltwater Fly Fishing in Hilton Head, SC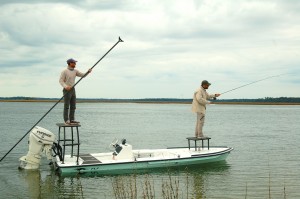 Here in Hilton Head we really do have an excellent inshore fishery and thus great saltwater fly fishing. At the top of our fly fishing list would be redfish, but there are some other really good fly fishing options such as cobia, spanish mackerel, blue fish, jack crevelle, speckled sea trout and lady fish. Moreover, finding the fish is only half of the battle…having the right equipment will maximize your chances of success! I primarily fly fish out of a very specialized saltwater technical poling boat to get you into the right position for that perfect cast. So if you are looking for a great saltwater fly fishing experience you came to the right place!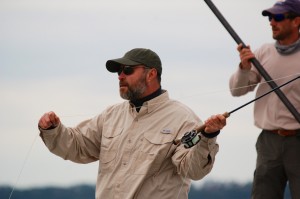 From the time that I was a young boy I have had a rod in my hand and the passion to chase after saltwater fish, but nothing gets me fired up like sight fishing and especially fly fishing! Maybe this is what pushed me to become a fly fishing guide! Imagine this: your wading ankle deep in the salt marsh and off in the distance you hear a push of water and then the blue tinge of a tail waving just above the waters surface. As you get closer you get a full view as a redfish is nosing down and slurping crabs off of the bottom while you only hope that your hands will stop shaking long enough to get a cast off before the fish moves on. I have had many of those moments and it's really what keeps me coming back for more… I guess it's that fishing addiction that everybody talks about!
Fly Fishing for Redfish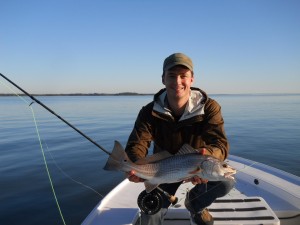 Lets start with fly fishing for redfish. During the winter months our waters become exceptionally clear with the cooler temperatures. As the water temperatures drop the redfish also start to school up into huge schools. I have seen winter schools of over 1000 fish that were so tight they turned the bottom black and bronze. For these fish we primarily pole the shallow flats sight fishing for the schools. When we find the schools it is just a matter of keeping the fish in position and making good casts to the edge of the fish to draw out a taker with out spooking the group. Summer and fall fishing is a bit different. Here we fish the short grass looking for individual redfish "tailing" as they feed on crabs. We generally don't fish in more than about a foot of water and the bottom is quite firm. This is the ultimate hunt with the fly rod. Though there is usually multiple fish feeding on the flat, you need to pick one and move with this fish until you get the right shot. One thing is for sure with these fish… they are on these flats to feed and when you get a strike be ready because they will hit it hard and fast.
Fly Fishing Charters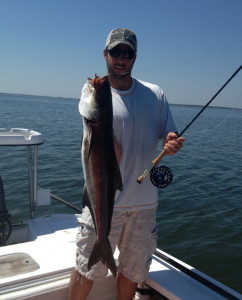 Though we spend most of our time fly fishing for redfish around Hilton Head we do have a number of other fly fishing options throughout the year. During the spring we will see the arrival of the cobia. These fish are large and don't play any games when hooked on the fly rod! Cobia fishing is a game of patience. We generally find them by riding around trying to sight them as they cruise on the surface. You may ride around for hours without seeing a fish or find one right out of the gate, but when you find them believe me you can't miss em as they look like a torpedo pushing through the water. Put a fly in front of one of these guys and hang on. As we get into the summer jack crevelle and lady fish will move in and we will fly fish for them either around the marsh or in the sound as they crash baits on the surface. The spanish mackerel and blue fish also come in during the summer and into fall. I generally look for these fish off of the beach as schools of fish crash the surface feeding on glass minnows and squid. Another really good fly fishery that we have is in fishing for black sea bass, when we get into the sea bass get ready for some non stop fishing action! During the fall months I will work the creek edges in search of speckled sea trout. We usually don't see these fish before making the cast, but because they are a schooling fish, if you get one you may catch a bunch.
Saltwater Fly Fishing Requirements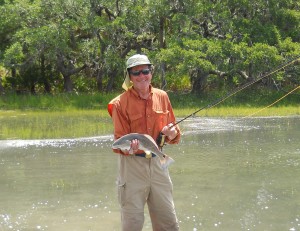 Saltwater fly fishing is a bit different than most traditional fly fishing… we use heavier equipment, make longer casts, use heavy flies and in many cases have some sort of wind to deal with. Having a proficient cast will make the difference between catching fish and not catching fish on most days. For the fishing that we do here in Hilton Head an accurate 40-60 foot cast using and 8 or 9 weight rod will work fine. It also helps to be proficient with the saltwater quick cast to get flies out to moving fish before they get out of casting range. I do offer Fly Casting Lessons so if you need a refresher before we head out on the water please let me know.
Saltwater Flies and Tackle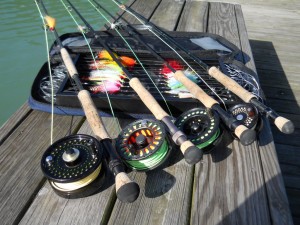 In a harsh saltwater environment the elements and powerful fish can really take a toll on the equipment this is why I use only quality tackle such as St. Croix Legend Elite fly rods, Penn International and Billy Pate Fly reels. My saltwater fly rods range from 7-12 weight. We will generally use the 7-9 weight rods for species such as redfish, sea trout and spanish mackerel and the 10-12 weight rods for larger species such as cobia and jacks. I use quite a number of different fly patterns depending on the fish that we are targeting. For redfish we will be using various crab and baitfish patterns such as the deceiver, clouser and flats rat. For cobia and jacks I like to use large colorful deceivers and top-water patterns. I do include all fly fishing equipment but you are more than welcome to bring your own rods, reels and flies as well!
Please note that all Fly Fishing Charters are by request only at the time of booking. Moreover, daily conditions such as wind, water clarity and cloud cover can have a huge impact on our ability to effectively fish with the long rod in a saltwater environment. I always work hard to put you in the best position to catch fish but weather conditions are completely out of my control so if fly fishing becomes a difficult option on the day just let me know and we can switch over to light spinning tackle.