Cobia Fishing Charters in Hilton Head, South Carolina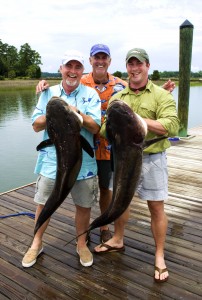 Hilton Head has one of the greatest cobia runs anywhere on the eastern seaboard. These powerful fish move into our area during the late spring and the action gets red hot by mid May. We will continue to catch these fish well into early September but it does get to be more spotty as we get further into summer. The main reason that cobia flood the waters around Hilton head Island is simple… they are here to spawn. Though you will find good numbers of single fish, many of the fish will be in pairs or small pods. The larger fish (those over 35 pounds) are generally females and the smaller fish are the males.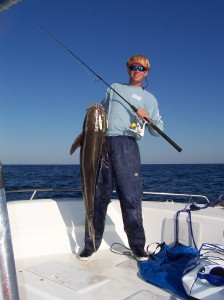 Of all of the ways to catch a cobia here in the Hilton Head area I really enjoy sight fishing for them. You generally need calm conditions to see the cobia cruising on the surface, but when things come together it is a real blast! Cobia are pretty bold creatures and will come right to the surface and cruise along as if they own the sea. When we find them there are a lot of tactics to get them to eat, but my favorite is to break out the fly rod and strip one right by their nose… if done properly it almost always results in a hard strike and a down and dirty battle. Spinning rods work well too and there are many different lures and natural baits that work well with a cruising cobia, but the key is a good presentation. Donking the fish up side of the head generally does not get it done.
During the peak of the season and especially later in the summer I like to get out onto the nearshore wrecks for some excellent cobia action. We have a number of natural and man made wreck sites here in South Carolina that hold not only cobia but other species such as grouper, snapper, flounder, amberjack, kings and sea bass. It takes a calm day to head offshore, but once out the action can be off the hook!
Considering that the cobia are here to spawn it is very important that we treat this fishery with respect. If you are looking to go out meat fishing, I am probably not the charter boat for you. I place a boat limit of 1 fish for the boat per day and if at all costs I try to release the big females. As you can see from my pictures I have taken large fish. In fact, my largest cobia came in at 78 pounds, but as I have become more educated about this species I have learned that a little self restraint can go a long way.