Tarpon Fishing Charters in Hilton Head Island, SC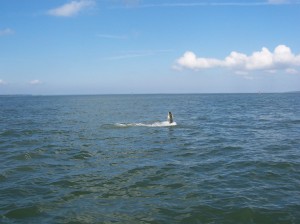 Tarpon are one of the greatest inshore sport fish in the world! I have literally caught thousands of these magnificent creatures and they still get my blood pumping! It doesn't matter if you tie into a 20 pound tarpon or a 100 pounder these fish will flat put on a show. Also known as the silver king, tarpon are sought after for their powerful runs and arial displays once hooked.
Here in Hilton Head Island, SC we have a good tarpon run that starts in early July and goes through the end of October. Tarpon are highly migratory fish that prefer tropical water temperatures. It is not uncommon to find schools of thousands of these fish migrating up the coast from Key West into North Carolina. We generally see our fish start to push in during the summer months as the water warms and huge schools of menhaden stage up in the rivers and off of the coast. Though we do find some of our fish in the shallows, many of the tarpon that we seek are out in deeper waters such as the Port Royal Sound and up the Broad River in deep cuts and around structure. Many of the tarpon that migrate into the Hilton Head area are BIG! Basically, we don't see too many fish under 100 pounds!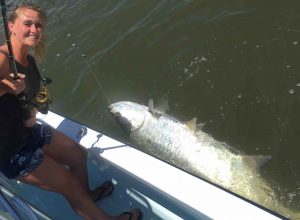 I always like to use light tackle when possible, but when you are talking about a 100 plus pound bruiser that doesn't like to give in easily this means an upgrade. I use 20-30 pound ugly stick custom spinning and conventional combos with plenty of line because a tarpon will dump you in a hurry. Being prepared is the key to tarpon fishing… you can't make too many mistakes with a fish of this size or you will be left with nothing but a fish story!
If you are looking to book a guided fishing trip CLICK HERE to Contact Hilton Head Fishing Adventures for more information. Catch em Up! Capt. Charlie