Light Tackle Fishing Charters in Hilton Head Island, SC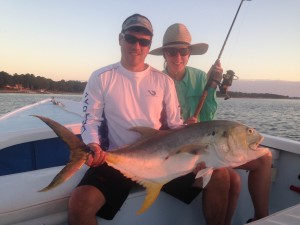 We specialize in light tackle fishing! One of the best ways to enhance any saltwater fishing experience is to properly match your equipment to the size and power of the fish that you intend to catch. This can be a little tricky because you want to use the lightest tackle possible in an effort to have a great battle but at the same time the tackle needs to be strong enough to handle any larger fish that bite the hook. For most of my shallow/backwater fishing trips I use 8-12 pound class St. Croix graphite spinning rod and reel combos. I have found that these rods are strong enough to handle big drag screaming reds and sharks back in the marsh but also sensitive enough to give you a good feel on smaller fish such as whiting and speckled sea trout. As we hunt for larger fish such as cobia, bull reds, tarpon or larger sharks we need to step up our equipment a little. These species can range in size from 15 to well over 150 pounds and they all pull hard so smooth drags and a lot of line capacity is a must on all my heavier rigs. For larger fish like to use 20 pound class spinning rods and 30 pound class conventional gear. As we get into heavier gear I always use sensitive rods such as ugly stick customs to ensure that you always get a good feel for what you are fighting.
Light Tackle Rigging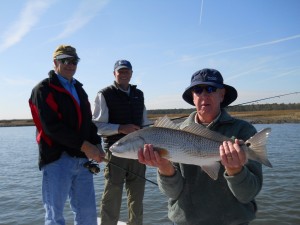 Rigging is of the utmost importance as we move into lighter class tackle. As we use lighter lines, leader and terminal tackle special attention needs to be paid to the condition of the fishing line and knots need to be tied, checked and double checked to ensure that a big fish isn't lost due to tackle failure. Moreover, some of our battles might last for well over an hour which means that we I keep all of my rods, reels and terminal tackle in top working order to ensure that you have the best chance of landing that fish of a lifetime!