Sight Fishing in Hilton Head, South Carolina
Of all of the fishing that I do through out the year the most thrilling has got to be sight fishing. There is just nothing quite like seeing the fish as they swim through the water or as they are feeding just before you place a bait on their nose! Though most of our sight fishing takes place in shallow water I never overlook the offshore sight fishing possibilities. Let's take a look at some of Hilton Head Islands prime sight casting opportunities!
Sight Fishing for Schooling Winter Redfish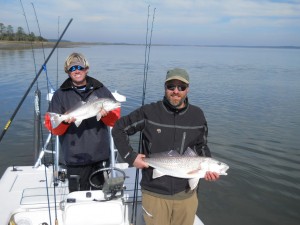 The winter months tend to give us some of the best sight fishing opportunities of the year. As you could imaging sight fishing means "seeing the fish" and having clear water makes this much easier. During our colder months the water temperature drops enough to kill off all of the algae and plankton that normally gives the water its dirty appearance. With gin clear waters and visibility to about 6 feet shallow water sight casting can fire off! To make it even better the redfish will school together into tight balls during the winter. It isn't uncommon to see schools of over 1000 redfish cruising the shallow flats. I can tell you that it is pretty exciting to see a school of fish like that pushing a wake towards the boat… the only question is can we stay calm enough to get off a good cast! Given the excellent sight casting conditions of the winter I spend most of my time poling the flats using light tackle spinning rods rigged with artificial lures and of course fly fishing is an option as well.
Sight Casting for Tailing Redfish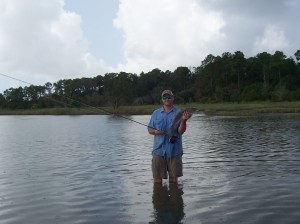 Though I love to pole for redfish on the winter flats nothing gets me fired up like hunting tailing redfish in the salt marsh! For those of you who don't know; a tailing fish is one that exposes its tail or body while feeding on the bottom in shallow water. In the case of Hilton Head's tailing reds, these fish are dipping down to feed on fiddler crabs. I have seen these fish pushing around in less than 3 inches of water… so shallow that their backs were exposed. This game is a bit different than the winter sight fishing. Here we are generally going to pick out one individual fish and stalk it as it feeds along the bottom. I like to wait until I have a good shot and then its game on. You have to remember that these fish are on the flats to feed so they rarely refuse a well placed artificial lure or fly. In my opinion this is the ultimate hunt with the light tackle spinning or fly fishing gear and I can guarantee you that I don't miss too many tailing tides… in fact I tend to plan my entire summer around them!
Sight Fishing for Cobia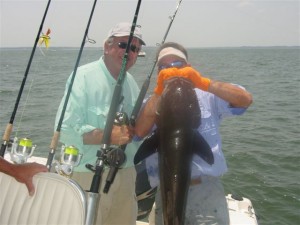 During the spring the cobia start to show up around Hilton Head Island and these bruisers will flat ware you out once you get them on the end of the line. There are many ways to fish for cobia, but given the conditions I will always sight fish for them as they cruise on the surface. I am not exactly sure why cobia like to cruise on the surface, but they get up top and push around like they own the ocean. It looks a bit like a torpedo going through the water as these guys push off a huge wake. From my experience cobia aren't too picky in what they eat, but a good presentation is very important. Popping a cruising cobia on the head with big lure tends to send them to the depths. With these fish we use both artificial lures and flies though I beef up my equipment a bit with 15-20 pound spinning rods and 10-12 weight fly rods.
Sight Casting the Nearshore and Offshore Waters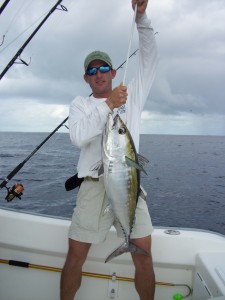 I have lumped all of these fish into one group because there are an number of fish that we pick up while sight fishing in offshore waters. When I am heading offshore I never leave the dock with out a few rods rigged up to pick up fish on the surface. Generally when you see fish on the surface in offshore waters they have pushed up a ball of bait and are feeding. This situation holds true for species such as; bluefish, mackerel, jacks, bull redfish and bonita or even out in the blue water for species such as tuna, dolphin and sailfish. In many cases you can find the fish under white birds because as the fish push the bait to the surface the birds dive down for a meal. The key to working fish feeding on the surface is to stay off at casting distance and cast into the feeding frenzy… we never race up and drive through the fish you will drive them down every time. The nice thing about finding fish feeding offshore is that as long as you can match what they are eating you can just about guarantee solid hook ups.
If you are looking to book a guided fishing trip CLICK HERE to Contact Hilton Head Fishing Adventures for more information. Catch em Up! Capt. Charlie