Hilton Head Fishing Charters & Fishing Guide Services
Hilton Head, South Carolina is a great destination for fishing and has quite a number of qualified inshore and nearshore charter fishing boats and professional fishing guides. Moreover we have excellent fishing year round. To see what we are catching throughout the year check out my seasonal fishing guide.
Hilton Head Fishing Adventures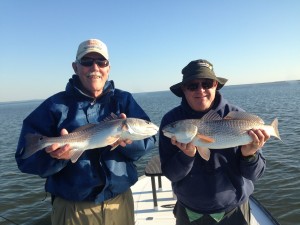 Here at Hilton Head Fishing Adventures I run an inshore and nearshore fishing charter service specializing in light tackle fishing for species such as redfish, speckled sea trout, flounder, cobia, tarpon, bull redfish, black sea bass and sharks. I am a full time fishing guide with over 17 years of professional fishing experience. I really feel that one of the biggest parts of my job is to customize every trip to fit the needs of my clients. Not as easy as it sounds, but if you let me know what you are looking for I will be more than happy to make your next fishing trip an adventure! To learn more about some of the services that I offer I have listed a brief overview or you can click on the specific links to find out more. If you would like to set up a trip click here to find out how to book a guided fishing charter!
Inshore Fishing Charters
Hilton Head Island is surrounded by water with the Atlantic ocean on one side and a vast expansion of calm tidal backwaters on the other. Within these calm inshore waters we have the opportunity to fish with light tackle fishing gear primarily for species such as redfish, trout and flounder. The inshore fishing for trout and flounder is seasonal with the best action coming in the spring and fall whereas the redfishing is exceptionally good throughout the year. Mixed in on the inshore waters we also catch a mixed bag of ladyfish, bluefish, spanish mackerel, sharks and shrimp to name a few. Most of my inshore fishing charters are 1/2 day trips and we really don't need to go far from the dock to get to the fishing grounds. If you are looking for a relaxing day on the water this may be the trip for you!
Sight Fishing Charters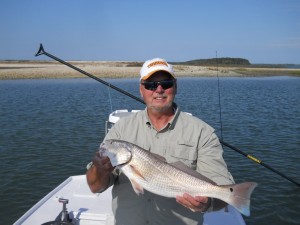 In my opinion there is nothing more exciting than sight fishing… it really is the ultimate hunt with a fishing rod! What is sight fishing you might ask? Basically we scan the water looking to see some sign of the fish which may be a push, a tail, fish feeding or even a full blown look at the fish. Once we see them you make a cast in front of the fish to elicit a strike. This gives us a great opportunity to use artificial lures and flies. Though we do have year round options for sight fishing we need the right conditions such as tide height, sun angle and wind. I have a number of sight fishing charters available depending on the time of the year and the given conditions. To start with we sight fish for redfish year round. In the winter we find the reds schooled up on the shallow mud flats in huge groups and throughout the rest of the year we sight fish for them as they tail on the short grass flats. In the spring and early summer we get a good run of cobia that can be caught while sight fishing as they cruise on the surface of the water. Also during the summer we have some nearshore sight fishing opportunities for species such as spanish mackerel and blue fish as they crash the surface feeding on small baitfish.
Fly Fishing Charters and Instruction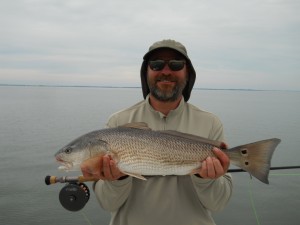 Here in Hilton Head we also have quite a number of fly fishing options throughout the year. Seasonally, we fly fish for species such as cobia, spanish mackerel, speckled sea trout and jacks. More consistently we fly fish for redfish over the entire year. This is all saltwater fly fishing and we use 7-12 weight fly rods depending on the conditions and species that we are after. If you are looking for a fly fishing guide it is important that you choose one that fly fishes on a regular basis and understands the little nuances of fly fishing such as proper fly selection, boat placement and casting requirements. For much of our fly fishing it helps to have the ability to cast accurately at 40-50 plus feet. As a Federation of Fly Fishers Certified Casting Instructor, I also offer saltwater fly casting instruction if you need a refresher.
Nearshore and Wreck Fishing Charters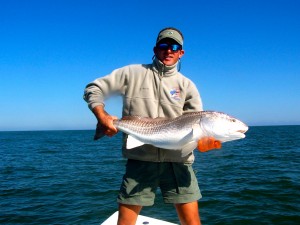 When I speak of the nearshore waters I am primarily talking about the deeper waters of the Broad River, Port Royal Sound and the wrecks located off of Hilton Head Island. This style of fishing varies depending on the species but may include; bottom fishing, sight fishing and trolling. Around the nearshore waters of the Broad River and Port Royal Sound we would fish for cobia, tarpon and bull redfish and may also get a mixed bag of black sea bass, whiting and sharks. Out on the wrecks we catch quite a number of cobia, bull reds, king fish, sheepshead, flounder, grouper, snapper and black sea bass. In general we fish the nearshore waters from late spring through late fall and the wrecks through out the year.
Fishing Charter Boats and Equipment
I have found over the years that one boat just doesn't quite work for all fishing situations so I run two different boats depending on the conditions and what we are fishing for. For fishing the the inshore backwaters we would fish out of my 18 foot technical poling skiff by Fly Boatworks. This boat is specially set up for poling and sight fishing the shallows. In the flats boat I can accommodate up to two anglers. For fishing the nearshore waters and coastal wrecks we would head out in my 20 foot Albury skiff. This boat has a sharp deep V which give it an exceptionally good ride to run in choppy water. This boat is fully rigged for many different fishing situations and can carry up to four four anglers. Moreover, I only use the highest quality and well maintained tackle such as St. Croix rods and Penn reels.
Hilton Head has quite a diverse fishery that spans throughout the year. To find out more about the fishing that we have to offer check out the rest of my web site -or- CLICK HERE to BOOK a CHARTER and contact me for more details. Captain Charlie