Flounder Fishing Charters in Hilton Head, SC
Flounder must be one of the oddest looking fish that I have ever seen, but you can't judge a book by it's cover. Flounder (AKA flat fish) are one of the best eating fish here in the Hilton Head area. In fact, they are favorite dish at many of the local sea food restaurants and I can guarantee you that they area favorite at my house as well!
Like many inshore saltwater fish, flounder are ambush predators… and they are one of the best. If you look at the colors of the flounder you will notice that they have a white belly which allows them to blend in the the sky and clouds when they come to the surface, but the real camouflage is in their brown backs dotted with black dots. Given their shape, flounder will lay on the bottom in areas where bait fish are washing through with the current and as the food comes by they burst up from the bottom for a tasty meal. It is not uncommon to catch redfish, trout and flounder all in the same area… basically if there is food the fish will be there.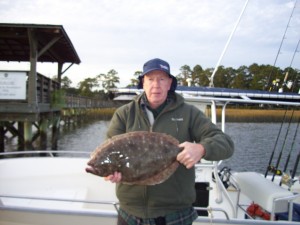 In my experience, I don't always target flounder on the inshore waters. As mentioned above we tend to find flounder in the same areas as other species so for me they are usually a nice "bi-catch". When the bite gets good however, it is not uncommon to find good numbers of flounder along the same stretch of shoreline. When I determine that there are good numbers of flounder to catch I simply change my fishing tactics to target the flounder. The other way that I go for flounder is out on the nearshore wrecks… yes out around the wrecks. Flounder will lay in the sand around natural and man made wreck sites and these are usually big flounder (AKA door mats – for obvious reasons). If you get one of these bruisers on a light spinning rod you had better hang on because they will put up a very nice fight.
If you are looking to book a guided fishing trip CLICK HERE to Contact Hilton Head Fishing Adventures for more information. Catch em Up! Capt. Charlie