Well the days are starting to get shorter and it looks as though it is time to put another summer fishing season behind us. As much as I enjoy the summer fishing, I always look forward to the fall. Not only does the crisp cool weather make boating more enjoyable; but the fall fishing, shrimping and crabbing is unmatched across the board! Right now you can head out at any time of the day, over any tide, and catch something.
Inshore Fishing and Nearshore Fishing
The inshore action right now is as good as it gets and will stay this way over the next few months. This is the season that I look forward to all year, and for good reason…the fish are plentiful and they are feeding hard. Most of the backwater creeks are loaded with shrimp and baitfish which is providing an abundance of food for the redfish, speckled sea trout and flounder to fatten up on. With daylight becoming shorter and mild cold fronts pushing through these fish know that the next few months will be their last opportunity to feed hard before the winter season. In other words, they are in what I like to call "feeding mode". If you want to make things simple just rig up a popping cork with a live mud minnow or shrimp and you will surely find some solid action around the creek mouths, oyster bar and grass edges. This is also a great time of the year to fish a with variety of artificial lures on light tackle spinning gear and fly rods. Generally, I like to use soft plastics which may include weightless jerk baits and tube lures or in deeper water I may fish the same baits behind a 1/4 oz jig head. When it comes to fly fishing you may want to consider the abundance of shrimp that are moving into and out of the marsh and focus on various shrimp patterns. As the water begins to clear we will also have some excellent sight fishing opportunities for redfish while poling the shallow flats. In the shallow water these fish will still be spooky, but with a proper approach and good presentations you should get some explosive strikes!
Nearshore and Wreck Fishing
Let's jump right in and look at one of my all time favorite fisheries: Bull Redfishing. What is a bull redfish?…basically a very large redfish. The South Carolina state record redfish was caught in Murrells Inlet, SC and weighed in at 75.0 pounds. Now thats a big red drum!  As these fish are finishing up their spawn they will flood the sounds and nearshore wrecks through out Beaufort County. We are generally fishing for them in deeper water and with larger tackle. I like to use 20 pound spinning or 30 pound conventional rods with a carolina rig and either a live mullet or menhaden for bait. While fishing for the bull reds also look to catch a variety of other species to include weakfish, bluefish, whiting and black sea bass. In closing, please remember that our fisheries are finite resources and though we all like to take a few fish for the dinner table, a fish released is a fish that can be caught another day.
Captain Charlie Beadon
843-592-0897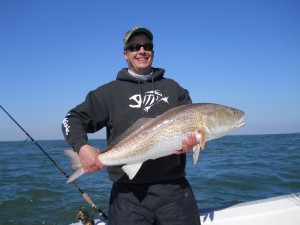 For more information about this topic please check out these links:
https://www.hiltonheadfishingadventures.com/
https://www.hiltonheadfishingadventures.com/redfish-hilton-head-fishing-charters
https://www.hiltonheadfishingadventures.com/speckled-sea-trout-fishing-charters-hilton-head-south-carolina