Cooler temperatures and clear water generally push most of our inshore fish into deeper water and our offshore fish into a feeding frenzy. This time of the year we look for calm clear days to sight fish the flats or to bottom fish the near and offshore wrecks.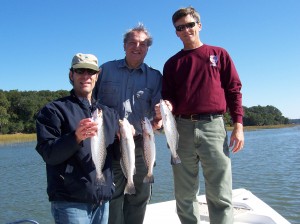 This Months feature is trolling for trout
 For most of the month we will enjoy cool northerly winds and crystal clear waters. This can be a great time to target specs in deeper off of oyster bars and more specifically by slow trolling small rapalas and jigs. Just put her in gear, sit back and enjoy the scenery.
Inshore Fishing 
Short days and cooler air drive the water temperature into the low 60s this time of year. Not only does the water become cooler but also crystal clear. As the water cools most fish move into deeper water with the exception of schooling redfish which will huddle together on low tide flats in large numbers. This creates a good opportunity for shallow water sight fishing. Given good conditions don't be surprised to get shots at large schools of fish (sometimes 100 plus fish per school) with light tackle and fly fishing gear.
Offshore Wreck and Bottom Fishing
Some of the best winter time fishing can be done on the wrecks which are located six to twenty miles offshore. On an average day look to catch a variety of fish to include: sheepshead, weakfish, bull redfish, flounder and sea bass. Not only are these fish a lot of fun to catch but also great to eat. Due to the fact that these wrecks are located in open water we generally look for light winds and calm seas to go offshore. We have some of the best bottom fishing in the world and it all comes together in the winter time. It is not uncommon for everybody on the boat to be bowed up on fish all day long…the only question will be "how big is it?". On our live bottom spots look to catch vermillion and red snapper, grouper, sea bass, cobia, jacks and kingfish.