June Fish Tails by Captain Charlie Beadon
Tails Up – Fly Fishing for Tailing Redfish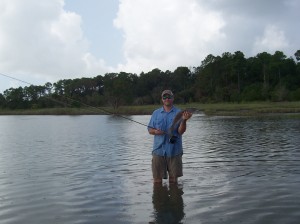 As I power my flats boat off of the trailer I can hardly contain my thoughts of the day to come. All year long I have been waiting for the summer tailing bite and it's finally here. Once we load our gear, we motor up and run down the river winding through narrow creeks and marshland to one of my favorite grass flats. When we first arrive the flats are completely dry, and you would probably look at me and laugh as I tell you "this flat will be filled with fish in the next hour". But as water creeps in with the tide the flats begin to flood and off in the distance we hear a crash in the grass. I have heard that distinct sound before and know the reds are pushing their way in to feed. Over the next few minutes we hear more fish pushing in until we see our first redfish gently waving its tail off in the distance as it roots in the bottom for a morning snack. The beauty of simply watching these fish in the wild do what comes naturally to them makes the trip a success. It gets even sweeter as I watch my fishing partner ease up to an unsuspecting fish and place a fly just in front of its path. He pauses for a moment, gives the fly a short strip and with an eruption of water he is hooked up! After a hard fight and a quick photo we release the worn out red back to the water for another day. To hear more tails of whoppers and mishaps give me a call and let's put together a fishing trip and until then "catch em up"!
https://www.hiltonheadfishingadventures.com/
This entry was posted on Friday, June 15th, 2012 at 6:31 pm and is filed under Fish Tails. You can follow any responses to this entry through the RSS 2.0 feed. You can leave a response, or trackback from your own site.