Black Sea Bass Fishing
Black Sea Bass
By Capt. Charlie Beadon
"Fishing in a barrel" This truly sums up the fishing for most sea bass trips. Sea bass are one of the best eating and most plentiful fish in the low country. You can fish for these guys year round though the best fishing takes place during the winter months. If you like a lot of action this is the fish for you.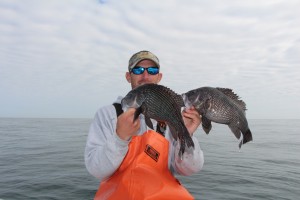 First let's look at the tackle and techniques used to catch sea bass. I would recommend using a medium action 8-17 lb class rod and reel for these fish. Generally, I line my reels with 30 lb power pro fishing line. I like the heavier line just in case a snapper or grouper gets into the mix. Spinning and conventional reels work equally as well for sea bass fishing, but I do recommend a reel with a high speed retrieve for fishing in deeper water. The three main rigs used for sea bass are: the carolina rig with bait (usually cut fish), the squid rig, and a jig. The carolina rig is a sure fire way to get a bite, but if the fish eats your bait before you hook him then you have to reel your empty hook to the boat for more bait. Squid rigs are great because even if you miss a fish you can lower the plastic bait back to the bottom and get another bite. The only draw back to squid rigs are that sea bass of all sizes will eat them. Jigs require no bait and generally catch larger fish but if you are using a jig you may go for longer periods between bites. I usually use a combination of all three baits depending on the situation. The key to using all of these baits is to keep them on or near the bottom…these fish will not come far off of the bottom to feed.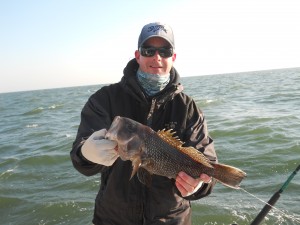 Though there are a lot of sea bass in the Port Royal Sound and near shore wrecks these are generally going to be smaller fish which will be too small to keep. Sea bass need to be a minimum of 12 inches and there is a bag limit of 15 per person per day. To catch the big sea bass you need to go out to the offshore wrecks and offshore live bottom. Wrecks such as the Eagles Nest and the Hilton Head Tire reef are great spots to catch big sea bass. The best spots however are natural live bottom areas. Live bottom areas are spots that have good relief and living coral which creates a natural habitat for bait fish and larger predators such as sea bass. The best way to find these live bottom areas is to pull out a chart and look for spots in 60 to 140 foot of water that are listed as live bottom areas. From the map you can copy latitude and longitude numbers that you can then load into a GPS to locate the spot. Once you arrive at your numbers the fun just begins…generally a set of numbers off of a chart will need to be refined. A live bottom area may extend over several acres or more and some pieces will hold fish and others will not. The key is to look for the bait…if you can find the bait the fish will be there. The best way to find the bait is to use your sonar. Look for clouds of bait near the bottom, bottom structure and for the sea bass. Once you find them you can fish by drifting over the area or set the anchor.
Here are a few Sea Bass Recipes
Sea Bass Chowder 8 servings
Ingredients:
6 medium potatoes
1 white onion
1 clove fresh garlic
3 ears sweet corn
6 stalks celery
6 strips bacon
8 sea bass filets
1 pint whipping cream
2 tablespoons salt
2 tablespoons old bay
1 tablespoon pepper
Directions:
1. Dice bacon and use to brown diced onion and crushed garlic in a small frying pan
2. Cut potatoes, corn, and celery then combine into a large pot with 6-8 cups of water
3. Add cooked bacon, onion and garlic then boil
4. When potatoes soften and start to break apart add seasoning, sea bass filets and cream
5. Cook for another ten minuets, allow to cool and serve
Baked Sea Bass8 servings
Ingredients:
8 sea bass fillets
2 tablespoons horseradish
1/2 cup mayonnaise
1 tablespoon old bay
2 lemons
Directions:
1. Pre heat oven to 375 degrees
2. Mix horseradish, mayonnaise and old bay
3. Lightly oil a large baking sheet and lay out sea bass fillets
4. Using a brush or spoon cover fillets with mayo mix
5. Bake for 10-12 minuites (or until fish flakes with a fork)
6. Sprinkle with fresh lemon and serve
Captain Charlie Beadon
www.hiltonheadfishingadventures.com
www.beaufortsportfishing.com
This entry was posted on Wednesday, February 18th, 2015 at 3:04 pm and is filed under Fish Recipes, Fishing Techniques & How To's. You can follow any responses to this entry through the RSS 2.0 feed. You can leave a response, or trackback from your own site.