Fly Fishing Basics
By Capt. Charlie Beadon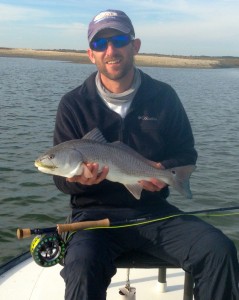 The fly fishing in the Lowcountry is virtually an all but untapped resource. There are so many opportunities to fly fish for both fresh and saltwater fish here. The ponds are loaded with bluegill, bass, and stripers…all waiting for the right presentation. In the rivers we have trout, redfish, and cobia, all of which can be taken on fly. We also have near shore fly rod opportunities in Spanish mackerel, King mackerel, and shark fishing. Catching a trophy fish on the fly rod can be one of the most rewarding experiences of your life, and this is a great time of the year to learn about the sport, tie some flies, and brush up on casting.
Fly Rods
Fly rods are classified by their action; a fast action rod will bend mostly at the tip and have a stiff butt section. A slow action rod will flex all the way to the handle, also known as a wet noodle. A medium action rod will be somewhere in between.
Fly rods are sized by weight. For bass you may choose a 5 to 7 weight rod, for most inshore saltwater fishing a 7-9 weight is good, and for larger species you may choose a 10 or even a 12 weight.
A few good brands of fly rods are G-Loomis, Sage, St. Croix, and Temple Fork. All of these rods have an unlimited lifetime warrantee, it doesn't matter if you break the rod in the car door they will replace it. A good fly rod is worth its weight in gold and I don't recommend taking the cheap road on this purchase.
The cost of these fly rods will vary from 100 to 600 dollars
Fly Reels
A few good brands of fly reels are Penn, Orvis, Okuma, and Temple Fork. As with fly rods, a good reel is worth the price you pay.
When you purchase a fly reel you may want to buy a spare spool so that you can load one spool with a floating line and the other with a sinking line.
One of the primary features to look at in a good fly reel is a quality drag system, one that is smooth and adjusts in small increments. Line capacity is another factor to consider, especially in salt water fishing. Choose a reel that can hold at least 200 yards of backing.
In general fly reels can be broken down as being either large or small arbor. Large arbor reels have a larger outside diameter, and are generally desired over the small arbor reels because you can retrieve line faster.
Some fly reels have an anti-reverse feature that allows you to hold onto the handle as a fish takes line. In general, most fly reels are direct drive (aka knuckle busters) in which case you must let go of the handle when the fish takes off on a run.
When you purchase a fly reel you will have to decide weather to have it spooled for left or right hand retrieve. There is no right or wrong here, you have to decide what is most comfortable for you.
The cost of a good fly reel can vary form 130 to 600 dollars.
Backing
The purpose of loading your fly reel with backing is to have line in reserve so that when the fish takes off on a run you don't run out of line.
When choosing backing you want to match the line test of the backing to the rod and reel that you are setting up. In general load 5-7 weight rods with 15 lb backing, 8-10 weight rods 20 lb backing, and 11-12 weight rods with 30 lb backing. The key is to load the reel with enough backing so not to get spooled.
In most all cases a braided line such as magi-braid or power pro should be used simply because the smaller diameter of these lines allows you to put more line on the reel.
Another good tip is to use a high visibility line so that you can tell where the fish is going. The fish never sees the backing anyhow so the bright color won't affect the bite.
Changing your backing is also important. You want to change your backing when it gets chalky, frayed, nicked, or every few years.
The cost of backing will range from 10-30 dollars.
Fly Line
The fly line that you choose is very important, because a good quality line will allow you to make a better cast, especially under adverse conditions.
A few brands of quality fly line are Cortland, Orvis, and Scientific Angler. I prefer the Scientific Angler mastery series as a good general fly line.
When purchasing fly line you want to match the line weight to the rod weight (i.e. 10 weight rods need a 10 weight line) The reason for this is that if you put a smaller line on a larger rod the rod won't load when casting and vice versa a larger line on a smaller rod will overload the rod.
Fly lines are classified as either floating or sinking lines. Floating lines float and sinking lines sink…I hope that everybody got that part. In most cases floating lines are used, but in more specialized cases different sinking lines can be used to place the fly in different depths.
Try to choose a line that is hard or stiff (this is why I like the Scientific Angler lines) because they tend not to sag in the rod guides and create less friction.
All fly lines have a taper; they start thin, gradually get thick in the middle and thin out again near the business end. This taper or extra weight is what loads the rod and ultimately makes the cast. There are a whole host of different tapers for different applications. In general a good weight forward fly line is acceptable.
The cost of most quality fly lines will range in price from 50 – 70 dollars.
I've mentioned cost for everything because fly fishing equipment is not cheap. If you add up the cost of the rod, reel, backing, and the line you could spend anywhere from 290 to 1300 dollars for a quality fly fishing system. This can get especially expensive if you plan to buy several rod combos for different fishing applications. On the other hand however, most fly fisherman view their fly rods as their most prized of fishing gear, passing these items down as family heir looms. I would suggest starting with a good combination 8 weight fly rod at the lower cost end and then if you really enjoy the sport step up the quality of your equipment.
Leader Construction
A clear monofilament leader section is always used to attach the fly to the fly line. This leader is usually between 7 and 11 feet long. I usually use a 9 foot leader because it is easy to measure using your 9 foot fly rod.
To attach the leader to the fly line use a stiff piece of heavy mono that is about 12 inches in length. Simply use a nail knot to make the leader to fly line union, and a loop knot at the other end. All subsequent leader to leader junctions can then be made with loop to loop connections.
Different leaders can be tied for different applications. Most leader systems consist of a line class tippet and a bite tippet; and for the true purest, IGFA leaders can be constructed. The nice thing about leader sections is that you can tie them at home on a rainy day, and interchange them quickly using the loop to loop connections while fishing.
Flies
There are many different fly patterns and it takes years to develop a tackle box that has all of the flies that you may use. Many fly fisherman won't buy flies…as fun as fly fishing is fly tying can be equally rewarding.
Once you have a few good patterns to build on you can go virtually anywhere with this sport…I must warn you however fly fishing tends to be rather addictive and once you get the basics down you may never pick up a bait rod again
Captain Charlie Beadon
www.hiltonheadfishingadventures.com