July Inshore Fishing Report
Hilton Head Fishing Report
One of the most common questions that I get throughout the year is "are we going to be fishing in saltwater?". My answer is always "Yes but more specifically we are fishing in a Saltwater Tidal Estuary". Moreover, the Beaufort and Hilton Head areas are unique in the way that our estuary receives very little freshwater influx and thus we have virtually no brackish water. Basically speaking all of the water that we see moving back and forth each day is tidal water that is flowing to and from the ocean. Our estuary provides food and safety for juvenile fish such as redfish, specked sea trout, flounder and sharks to grow and also provides us with a wonderful playground to enjoy the outdoors and wet a line.
Inshore Fishing:
July fishing gives us a real mixed bag of different species to fish for. Our top inshore targets will be redfish, speckled sea trout and flounder. These fish can be caught using a number of techniques to include: walking topwater plugs, jerking soft plastics, jigging, fly fishing and drifting live baits under popping corks. As for redfish, we are at the top of the tailing season which is by far the most exciting way to chase reds! As the high tide spills over marsh grasses and onto hard packed sand the redfish will push in to feed on small fiddler crabs…a redfish in no more than a few inches of water with its nose stuck in the bottom and tail waiving high is quite a sight to see. We will also be seeing schools of ladyfish, jack crevalle and bluefish in shallower water throughout the month. These fish might be feeding on anything from glass minnows to menhaden and can be a blast to catch on both light spin and fly fishing tackle.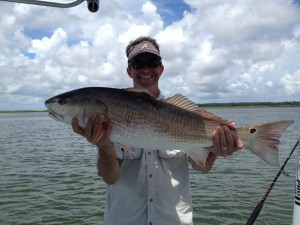 This entry was posted on Sunday, July 7th, 2013 at 4:16 pm and is filed under Recent Fishing Reports. You can follow any responses to this entry through the RSS 2.0 feed. You can leave a response, or trackback from your own site.