Bull Redfish
By Capt. Charlie Beadon
When we talk about bull redfish we are referring to the largest of redfish, a true trophy fish for any angler. These fish are not only sought after for their great size but also for their power as a great fighting bottom fish. This is the last large fish to push into our inshore waters before winter so get out and enjoy a day on the water fishing for the big bulls.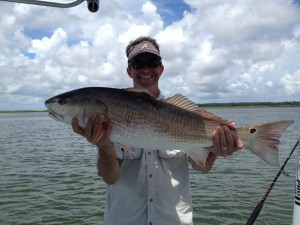 Redfish Biology 101
1. First we need to know what a bull redfish is. Basically speaking a bull redfish is a sexually mature adult redfish that has moved out of the estuary and lives most of its life in open water.
2. Redfish are very long lived fish, living as long as 60 years. Considering that fish never stop growing an old redfish will also be a rather large fish. In fact, the South Carolina state record for the red drum is 75 lbs; this fish was caught in Murrells Inlet, SC in 1965.
3. When talking about redfish most people think of inshore shallow water fishing. This is where most redfish are caught but these are typically smaller juvenile fish. As Juveniles redfish live in shallow water estuaries feeding on crabs, shrimp and small fish. At about the age of four they become sexually mature adults and move offshore where they live as bottom fish for most of the year. In South Carolina adult redfish move into the surf to spawn during the summer months and then spread out to the sounds and near shore wrecks in late fall.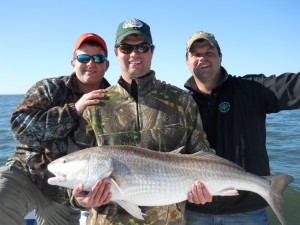 Tackle and Techniques 
1. When targeting bull reds we generally fish on the bottom in deep water (20-50 feet deep). Anchor your boat up current of where the fish are and fish 2 or 3 rods with the bait directly on the bottom.
2. As with many other fish we use the good old Carolina rig and bait. In the deeper water I generally use an 8 oz lead and 3 feet of 50 lb leader. In most all cases where you fish with natural bait circle hooks should be used and for redfish your hookup ratio will be near 100% if you use the hooks properly. For bull reds I prefer a 4/0 Eagle Claw Sea Circle.
3. When choosing a rod and reel for this type of fishing I prefer a 20-30 lb class outfit. Conventional or spinning rods will both get the job done, however conventionals are easier to work with (as with most bottom fishing).
4. The best bait for bull reds will include live or ½ crabs, cut or live mullet, cut or live menhaden, and large shrimp.
5. There are a few rules to follow when fishing for redfish, and for the most part all bull reds will be to large to keep. All redfish must be between 15 and 23 inches, only 3 fish can be kept per person per day, and no fish caught past 3 miles offshore (federal waters) can be kept.
When and Where
1. The best time to target Bull Redfish in South Carolina is mid October until Mid December.
2. The best places to target bull reds are around near shore wrecks such as the Gordon or the Beaufort 45 or over hard bottom in the sound such as Baypoint.
Good Luck and Tight Lines
Captain Charlie Beadon
www.hiltonheadfishingadventures.com