Black Sea Bass on the Fly Rod out of Hilton Head, SC
While on a recent wreck fishing trip we got into some really nice sized black sea bass and were able to catch better than 2 dozen on the fly rod here's a picture and a video!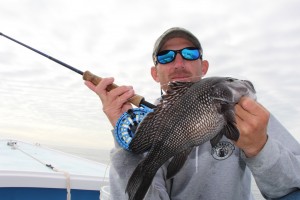 This entry was posted on Saturday, December 15th, 2012 at 8:37 pm and is filed under Recent Fishing Reports. You can follow any responses to this entry through the RSS 2.0 feed. You can leave a response, or trackback from your own site.