As the days become longer and the air temperature warms up so does the water. As the inshore waters heat up so does the fishing. Look for trout and redfish to become more active and cobia to start moving in.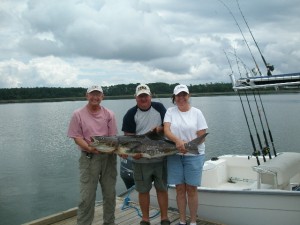 This month's feature is Inshore Cobia Fishing
 Cobia season is right around the corner! For those of you who don't know this is our biggest fish run of the year and it seems that everyone will be going cobia crazy. With good numbers of 30-60 plus pound fish moving into the river we have good reason to get excited. We have the largest concentration of cobia anywhere on the east coast during the months of May and June as these fish move into our waters to spawn. Cobias have it all, they are great fighters, great table fare and eat most anything that you offer. Many bites come on the bottom, but we also catch quite a few fish on top water lures and the flies.
Inshore Fishing
Port Royal Sound hosts one of the best spawning grounds for cobia anywhere in the world and May is when it all begins. Look to have shots at 30-60 plus pound cobia on an average day. Is fly fishing your thing? Under calm conditions taking one of these bruisers on fly is always an option. While fishing for cobia doesn't be surprised to also catch spanish mackerel, blue fish and various sharks. Moreover, the shallow water fishing is excellent, especially for redfish on light tackle. Also, look to catch good numbers of larger sea trout, and flounder around the shell bars and mud flats.
Offshore Wreck Fishing
As cobia move into the sound they also stage up on the offshore wrecks. In general, the wrecks will hold a larger concentration of big fish during this time of year. Along with cobia expect to catch sharks (some exceeding 200 plus pounds), mackeral and various bottom fish. Due to the fact that these wrecks are located in open water we generally look for light winds and calm seas to go offshore.
https://www.hiltonheadfishingadventures.com/