With shorter days and cooler temperatures most fish are feeding up for the winter and moving to deeper water. With clearing water start to look for clear calm days to sight fish the flats or work the offshore wrecks.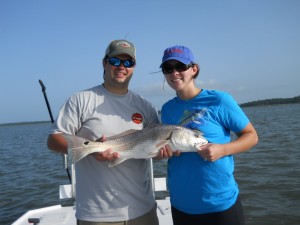 This month's feature is Schooling Reds
As the days become shorter and temperatures drop the trout and redfish bite will fire off. The redfish will be schooling in huge numbers as they prepare for the upcoming winter months. These fish can feel the cold coming on as the water temperature drops so during late fall you can expect to start catching good numbers of fish as they start to fatten up for winter. The best part is that you don't have to run far to the fishing grounds, they eat most everything that you put out and did I mention that they are great eating as well…just a little bonus. We use many different tactics to fish for trout and reds; from using live bait, lures, and flies to anchoring on the flats and creeks or sight fishing out of the flats boat.
Inshore Fishing
Can I say "on fire"! This may be the best time of the year to get out and catch inshore redfish. Many fish can be taken by sight fishing the clear shallow flats or by looking for schooling fish pushing around the shell bars. Light spinning tackle and fly rods are the ticket for these guys. There are also good numbers of trout around and quite a few bull redfish in the sound and near the beach.
Wreck Fishing
This is a great time to get out to the near and offshore wrecks. Bull reds and flounder will take over the wrecks this time of year. Also look to catch weak fish and sea bass, snapper and grouper. This is a good time of the year to fish the live bottom areas for big snapper and grouper, jacks and cobia. Large sea bass take over some of the live bottom areas this time of the year. These fish are not only a lot of fun to catch but great to eat as well. If you're looking for a trip with non-stop action this is it. Due to the fact that these wrecks are located in open water we generally look for light winds and calm seas to go offshore.