As the days become longer and the water temperature rises many of the fish that have been sluggish to eat will fire off for some great spring action. Some of the best fishing of the year is here so let's sharpen our hooks and get after them.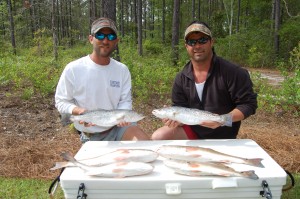 This month's feature is Inshore Trout and Redfish
As the nights become shorter and temperatures rise the trout and redfish bite will fire off. These fish can feel spring coming on as the water temperature increases; during early spring you can expect to start catching good numbers of fish as they start to move into shallow waters to feed. The best part is that you don't have to run far to the fishing grounds, they eat most everything that you put out and did I mention that they are great eating as well…just a little bonus. We use many different tactics to fish for trout and reds; from using live bait, lures, and flies to anchoring on the flats and creeks or sight fishing out of the flats boat.
Inshore Fishing 
As the water temperature starts to move towards 70 degrees the inshore waters come to life. Trout and redfish feed heavily after the long winter giving us the opportunity to test our skills and enjoy the moderate outdoor temperatures. Late in the month we will begin to see the first of the cobia start to show up in the river and around buoys.
Wreck and Live Bottom Fishing
Bottom fishing can be particularly good this time of year, especially around the deeper wrecks and live bottom areas. These areas are also staging points for cobia preparing to move into the sound. On an average day look to catch a variety of fish to include: sheepshead, weakfish, sea bass, flounder, snapper, grouper cobia and jacks. Not only are these fish a lot of fun to catch but also great to eat. Due to the fact that these fishing areas are located in open water we generally look for light winds and calm seas to go offshore.