Shark Fishing Charters in Hilton Head Island, SC
With the movie Jaws and shark week playing on the tube most people see sharks as a "deadly man eater", but in reality sharks are just a part of the chain of life in saltwater. In fact, sharks really don't want to have anything to do with us and most shark attacks are accidental in nature. Here in Hilton Head Island, there are huge numbers of sharks during the summer, but you rarely hear of any shark-human encounters. On the other hand, from a fishing standpoint, shark fishing can add up to a great day on the water.
We have a vast number of shark species here in the Hilton Head Island area. These would include: bonnet heads, black tips, duskies, hammer heads, nurse sharks, tiger sharks and bull sharks to name a few. Some of these species such as the bonnet head sharks are primarily caught around inshore waters while others such as the bull sharks are found mostly in the offshore waters. One thing is for sure; when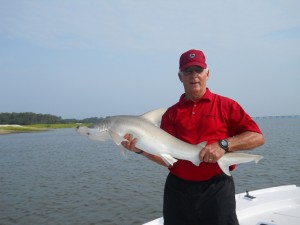 the sharks move in there are a lot of them. I have had days where we were not looking to catch sharks, but there were so many that we could not get away from them! It really depends on what size sharks that we are targeting, but I generally try to match my tackle to the size of the sharks that I am after. For example; if we were on the inshore flats fishing for bonnet heads (they typically weigh 6-12 pounds) we would use light 8-17 pound class spinning rods. On the other hand, if we were looking to catch a 100 plus pound blacktip or bull shark I would move into a 15-30 pound class conventional outfit.
The cool thing about catching sharks is the fight. They will flat ware you out! I have fought one shark for over 2 hours with stout tackle and when it came to the boat it was still full of spunk. If you are looking for a hard fight and some fast paced action shark fishing may be right up your alley.
For more information about shark fishing or to Book a Guided Shark Fishing Tripshoot me an e-mail or give me a call. Captain Charlie