Welcome to Hilton Head Fishing Adventures
Inshore Fishing Charters in Hilton Head, SC
Enjoy a day of light tackle fishing on the waters of Hilton Head, South Carolina with inshore fishing guide Captain Charlie Beadon.
Let's head out for a saltwater fishing charter around the backwaters Hilton Head Island. I specialize in light tackle spin and/or fly fishing so whether you are a seasoned angler or just getting started I have plenty of options to meet and hopefully exceed your expectations. Within the inshore back waters you will have the opportunity to fish the calm shallows using lures, flies and live bait tactics for species such as redfish, speckled sea trout and flounder. Depending on the conditions we may also venture into the deeper waters of the Port Royal Sound or nearshore wrecks to fish for species such as tarpon, bull redfish, cobia, shark, king mackerel and various bottom fish such as grouper, snapper and sea bass.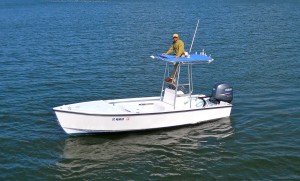 Charter Fishing Boats
Depending on the type of fishing charter that you choose  and the species that we are fishing for we would fish out of either my flats or bay boat. For fishing the inshore shallows we would take my 18 foot technical poling skiff by Fly Boatworks. This extreme shallow water boat is specially designed  for sight fishing deep into the backwaters around Hilton Head Island particularly using light spinning and fly fishing gear. If you are looking to head into the Port Royal Sound or off to the nearshore wrecks for some trolling or live bait action we would take my 20 foot Albury Skiff. This boat is built to do one thing: Catch Fish! Moreover, her hull design offers you a comfortable ride even in choppy water. So let's get out and do some fishing!
Nature and Photography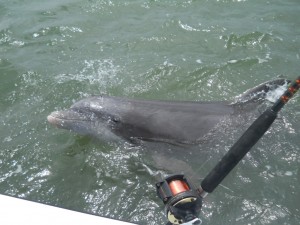 While fishing you will be astounded by the diversity of resident wildlife and the scenery surrounding Hilton Head Island. You will be taken in by stunning shorelines lined with palm, pine and overhanging oak trees set behind miles of marsh grasses which have been cut out by winding tidal creeks feeding into mud flats and oyster bars. Depending on the time of year you may also see a diversity of migratory, wading and shorebirds such as bald eagles, herons and oyster catchers. If that isn't enough, keep a good look out for a variety of different animals ranging from sea turtles to otters and of course plenty of bottle nosed dolphins!
Hilton Head Fishing Guide
As a full time fishing guide, with 15 years of professional fishing experience, I hold a U.S. Coast Guard captains license. I Run a safe charter boat and offer a positive environment that makes fishing fun for a family outing and the seasoned angler. I believe in offering a fun and unique experience on each and every trip and I can assure you that I will always work hard to put you on fish and show you a good time.
Please check out the rest of my website and if you would like more information on How to Set up a Saltwater Fishing Charter simply give me a call or shoot me an e-mail. Moreover you might want to visit my Frequently Asked Questions page to see some of the common questions that get about guided fishing charters. Until then, catch em up!
Captain Charlie
Hilton Head Fishing Adventures is a trade name doing business under the