Hilton Head Cobia Fishing Report
With summer upon us the temperatures are heating up and so is the fishing. I have been doing a little bit of fishing on the inshore waters for trout, redfish and flounder. Overall, the inshore bite has been fair to good. I say fair because the bite has been somewhat inconsistent. I have had the best success using live minnows under a popping cork around the grass edges, creek mouths and oyster points. Switching gears I have been spending some time on the offshore waters fishing some of the local wrecks and live bottom areas and the bite has been on fire! We have been live bait fishing and drift fishing to catch some really nice cobia. Mixed in we have been catching good numbers of bull redfish, black sea bass, porgies, snapper, grouper and sheepshead. The only thing that has been knocking us out has been the wind… not to mention two named tropical storms in one week and we are still in May. Until next time, Catch em Up!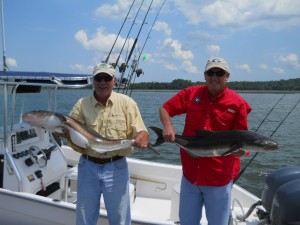 Captain Charlie Beadon
843-592-0897
http://www.hiltonheadfishingadventures.com/
For more information about Hilton Head, SC redfishing and bottom fishing check out these links:
http://www.hiltonheadfishingadventures.com/cobia-fishing-charters-hilton-head-sc
http://www.hiltonheadfishingadventures.com/wreck-fishing-boat-charter-hilton-head-sc
http://www.hiltonheadfishingadventures.com/inshore-saltwater-fishing-guide-and-sport-fishing-hilton-head-sc
This entry was posted on Sunday, May 27th, 2012 at 3:00 pm and is filed under Recent Fishing Reports. You can follow any responses to this entry through the RSS 2.0 feed. You can leave a response, or trackback from your own site.